Marina and Professional Offices on the waterfront in Rockland's South End
For a listing of all of the wonderful businesses
​that call Sharp's Point South their professional home,
​please click here.
South facing, waterfront offices, next door to Snow Marine Park and on the Rockland Harbor Trail, just minutes from downtown Rockland.

OFFICE RENTALS

​Affordable office space, starting at $275/month
Rent includes heat, electricity, ample parking, recycling pick-up
Quiet, welcoming ambiance
Uncrowded parking
Staffed central reception area
Small, medium and large offices
Newly renovated and ready for occupancy.
On the Rockland Harbor Trail, just minutes from downtown

​​​

Stop by to view space or call for details & availability

207-701-7627
207-701-5050 75 Mechanic street, Rockland, Maine
---
Directory
For more details & contact information on our current Sharp's Point South community of businesses, click here.
​
Non Profit Museums & Education:
Coastal Children's Museum 207-596-0300
Midcoast Sailing Center 207-701-7627
Sail, Power, and Steam Museum 207-596-0200
Station Maine 207-691-2037
Professional Services - Wellness
Acupuncture / Massage / Reflexology
Abundant Health Acupuncture, Jackie George, Licensed Acupuncturist 207-542-4737
Deeply Rooted Well-Being, Jillian Tullgren, LMT – (518) 982-4009
Eileen Murray, Licensed Acupuncturist 207-576-5360
EyeEnvy Lash Studio Academy- Charlene Nutter, 207-390-0122
Jessica Weatherbee - Rockland Maine Massage 207-594-9794
Michele Nettles, Good For The Sole, Reflexology 207-701-8047
Social Services / Psychology
Kelly Blanchard, Massage Therapist

Dan Keniston, LCSW 207-462-2264
Elizabeth Cleverly, LCSW 207-230-9764
Shawna Galaburda, RN, Case Manager
Este Underdown, MSW, LCSW, CADC 207-542-7813
Karen S. Klein, PhD Licensed Psychologist 207-594-5102
Peter Gallway, LMST, NCACII petergallway@gmail.com
Stacy Hall, LCPC 207-691-9579
Professional Services - Other
Child Safety Solutions, Inc. (home of the "I'm Safe" series) 877-669-7233
Crystal Tarjick, Attorney at Law 207-691-2633
Jesse Ellison, Freelance Writer/Journalist
Kathy Westra, Your Green Voice Environmental Advocacy Communications 207-594-0050
Mechanical Services, HVAC Contractor - systems, sales, services 207-774-1531
Pathways of Maine, Human services without walls 207-373-0650
William F. Pagnano, Esq 207-596-5758
Martin S. Willis, Fine Art & Antique Appraiser
Arts & Culture
Bonnie Farmer Art

Hamilton McKay Belk, Musician, Producer, LEngineer
Rockland Cinematheque / Joanna Spinks - rockland.cinematheque@gmail.com
Marina Facilities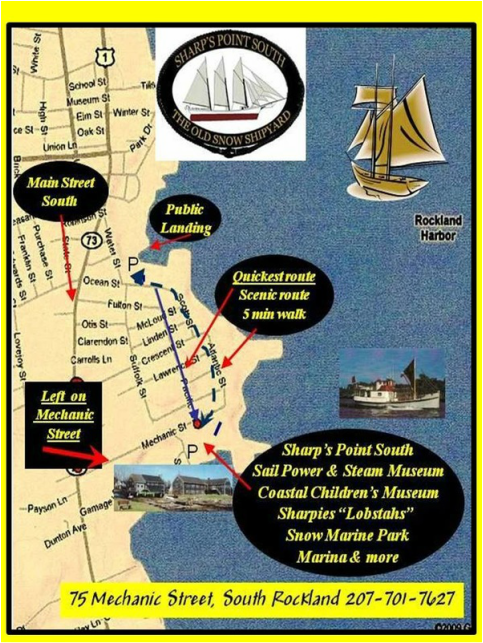 Tucked in the South End of Rockland Harbor on the site of the historic Show Shipyard, on the Rockland Harbor Trail, and next door to Snow Marine Park for convenient boat launch and hauling.
dock space rental, seasonal and overnight
mooring rentals
showers on site
ample parking
dingy dock rentals
groceries and fish market within walking distance
For pricing and availability, call 207-701-7627 or 207-701-5050
---
---